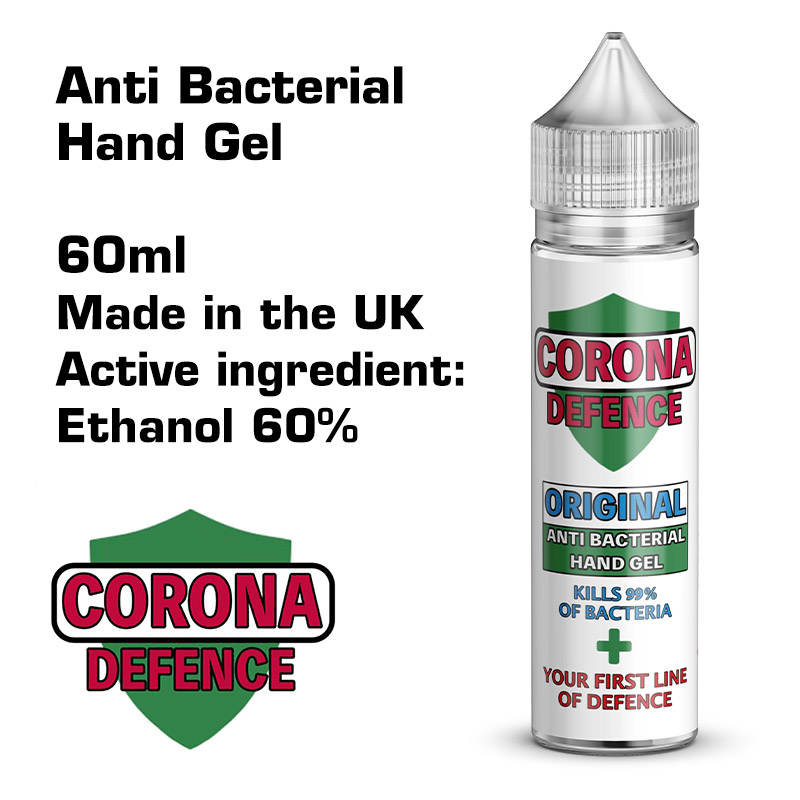 Anti-Bacterial Hand Gel by Corona Defence
Corona Defence Anti-bacterial Hand Gel is new for April 2020 and is available in 60ml bottles. The quick-drying formulation kills 99% of bacteria fast whilst leaving your hands feeling fresh and lightly scented.
Ingredients: Alcohol Denat, Aqua, Vegetable Glycerine, Carbomer, Triethanolamine, Benzyl Benzoate, Limalool. Active Ingredient: Ethanol 60% PCS97114.
WARNING: Corona Defence contains flammable liquid and vapour. Do not use on broken or irritated skin. Keep out of the reach of children and pets. If swallowed seek medical advice immediately.
IMPORTANT: We know it should go without saying, but Corona Defence is NOT an eliquid; despite its container being a classic eliquid bottle. Vapour Freaks has created and produced Corona Defence to meet unprecedented demand and to help the fight against Coronavirus.
GENERAL PUBLIC: You can buy Corona Defence Anti-bacterial Hand Gel online HERE
Supply and delivery terms
This website is for our retail and wholesale customers only, to order in bulk contact us with your requirements, and we will send you an invoice. Once we've received your payment, orders are processed and sent out the same day from one of our depots in The West Midlands.
The delivery charge is £10 for small orders of up to £150, £20 for orders from £150 to £4,500, and orders over £4,500 are FREE DELIVERY. All orders must be fully inspected upon delivery and any errors reported to us within 48 hours.