Award-winning PENG CBD e-liquids
Our PENG CBD e-liquids contain Full Spectrum Cannabidiol Hemp Extract and are available in 17 flavours and in 10ml, 30ml and 60ml bottles.
Available in 5 strengths of CBD: 300mg per 10ml, 600mg per 10ml, 1000mg per 10ml, 1500mg per 10ml and the NEW 2000mg per 10ml.
In VAPOUROUND's 2018 awards PENG was awarded 2nd place for best CBD e-liquid.
PENG CBD e-liquid ingredients
Full Spectrum CBD (Cannabidiol Hemp Extracts), Natural and Artificial Flavouring, Vegetable Glycerine (60%) and Propylene Glycol (40%). Zero nicotine.
Our CBD is made by a leading EU based producer using state-of-the-art supercritical CO2 extraction processes on cold-pressed industrial hemp seed oil (cannabis sativa L.). A process that creates the purest CBD and preserves all other cannabinoids, terpenes, flavonoids, and nutrients. The hemp is cultivated without herbicides and pesticides.
GENERAL PUBLIC: Buy PENG CBD e-liquids online at Next Vapour: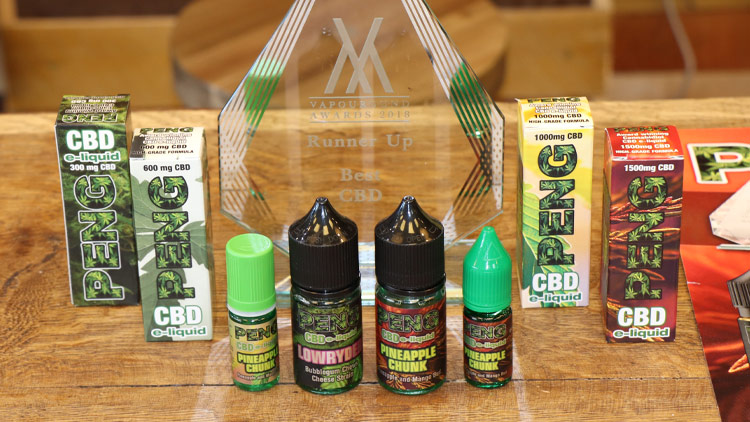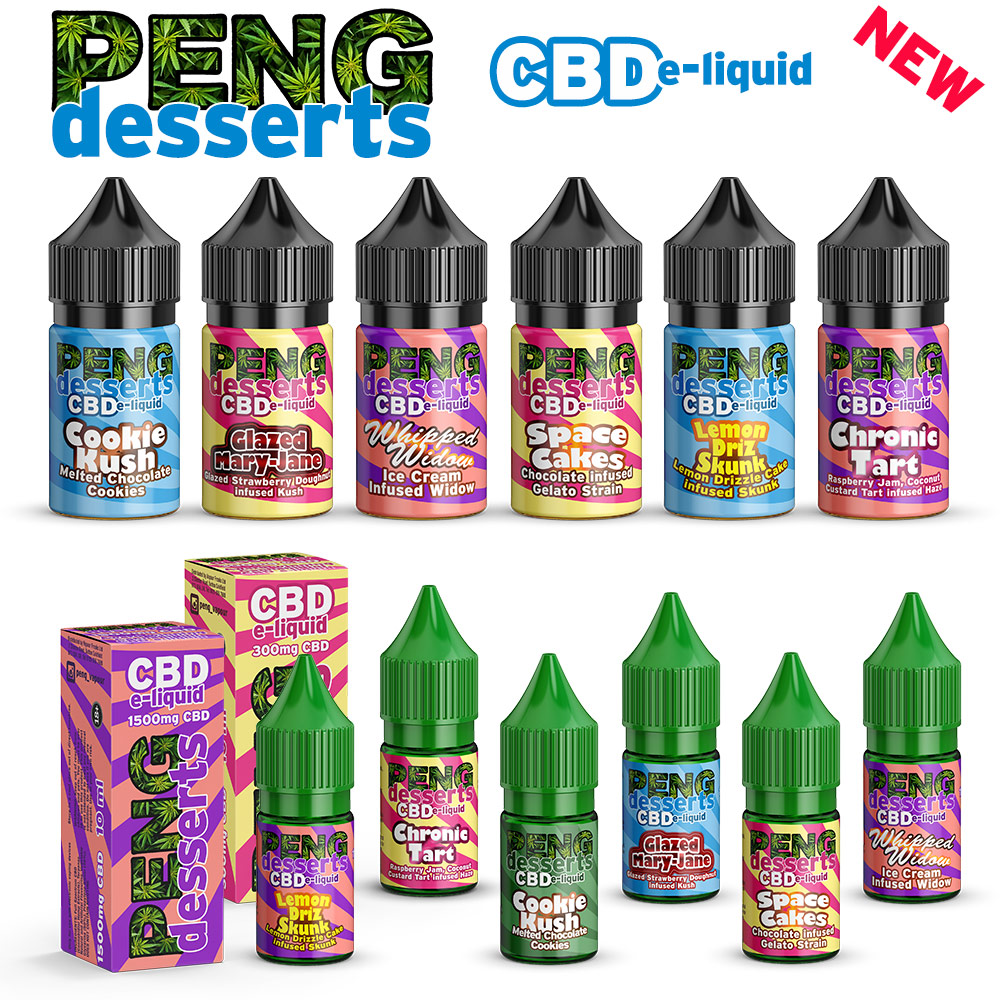 PENG CBD e-liquids flavour range
Big Cheese - Cheese Strain
Purple Haze - Grape Infused Haze
OG Kush - Blueberry Kush
AK47 - Black Grape, Red Berries & Menthol Skunk
Silver Haze - Menthol Haze
Heisen Bud - Fruity Menthol Skunk
Critical Mass - Lemon Chews Haze
Armageddon - Strawberry Kiwi Infused Haze
Brainstorm - Grape Soda Infused Haze
Lowryder - Bubblegum Chews Cheese Strain
Pineapple Chunk - Pineapple and Mango Bud
PENG Desserts CBD e-liquids
Chronic Tart - Raspberry Jam, Coconut Custard Tart infused Haze
Cookie Kush – Melted Chocolate Cookies
Glazed Mary-Jane - Glazed Strawberry Doughnut infused Kush
Lemon Drizzle Skunk - Lemon Drizzle Cake infused Skunk
Space Cakes - Chocolate infused Gelato Strain
Whipped Widow - Ice Cream infused Widow