Award-winning PENG CBD e-liquids
Our PENG CBD e-liquids contain Full Spectrum Cannabidiol Hemp Extract and are available in 17 flavours and in 10ml, 30ml and 60ml bottles.
Available in 5 strengths of CBD: 300mg per 10ml, 600mg per 10ml, 1000mg per 10ml, 1500mg per 10ml and the NEW 2000mg per 10ml.
In VAPOUROUND's 2018 awards PENG was awarded 2nd place for best CBD e-liquid.
GENERAL PUBLIC: You can buy PENG CBD e-liquids online HERE.
PENG CBD e-liquid ingredients
Full Spectrum CBD (Cannabidiol Hemp Extracts), Natural and Artificial Flavouring, Vegetable Glycerine (60%) and Propylene Glycol (40%). Zero nicotine.
Our CBD is made by a leading EU based producer using state-of-the-art supercritical CO2 extraction processes on cold-pressed industrial hemp seed oil (cannabis sativa L.). A process that creates the purest CBD and preserves all other cannabinoids, terpenes, flavonoids, and nutrients. The hemp is cultivated without herbicides and pesticides.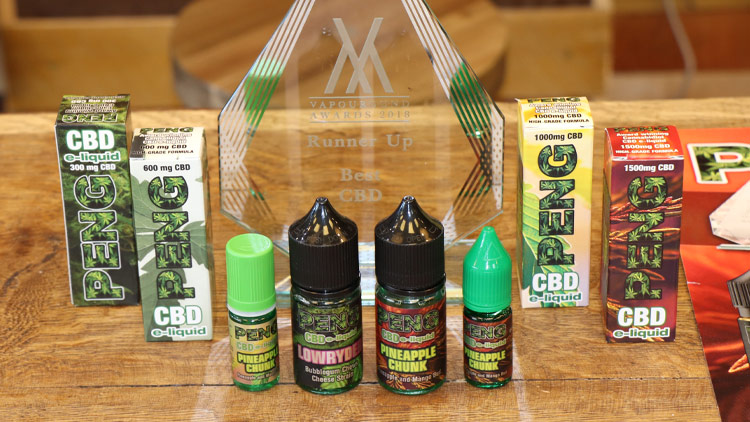 Supply and delivery terms
This website is for our retail and wholesale customers only, to order in bulk contact us with your requirements, and we will send you an invoice. Once we've received your payment, orders are processed and sent out the same day from one of our depots in The West Midlands.
Delivery charges
The delivery charge is £10 for small orders of up to £150, £20 for orders from £150 to £4,500, and orders over £4,500 are FREE DELIVERY. All orders must be fully inspected upon delivery and any errors reported to us within 48 hours.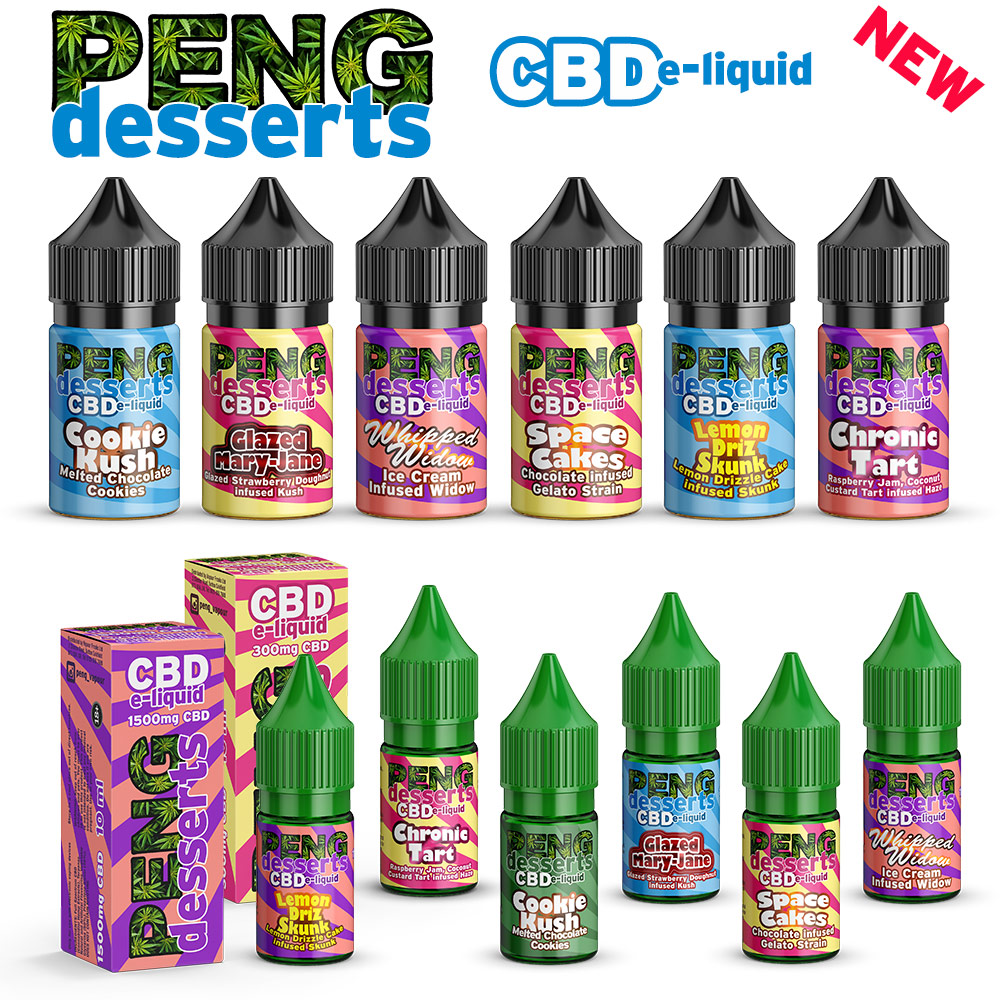 PENG CBD e-liquids flavour range
Big Cheese - Cheese Strain
Purple Haze - Grape Infused Haze
OG Kush - Blueberry Kush
AK47 - Black Grape, Red Berries & Menthol Skunk
Silver Haze - Menthol Haze
Heisen Bud - Fruity Menthol Skunk
Critical Mass - Lemon Chews Haze
Armageddon - Strawberry Kiwi Infused Haze
Brainstorm - Grape Soda Infused Haze
Lowryder - Bubblegum Chews Cheese Strain
Pineapple Chunk - Pineapple and Mango Bud
NEW ! - PENG Desserts CBD e-liquids
Chronic Tart - Raspberry Jam, Coconut Custard Tart infused Haze
Cookie Kush – Melted Chocolate Cookies
Glazed Mary-Jane - Glazed Strawberry Doughnut infused Kush
Lemon Drizzle Skunk - Lemon Drizzle Cake infused Skunk
Space Cakes - Chocolate infused Gelato Strain
Whipped Widow - Ice Cream infused Widow