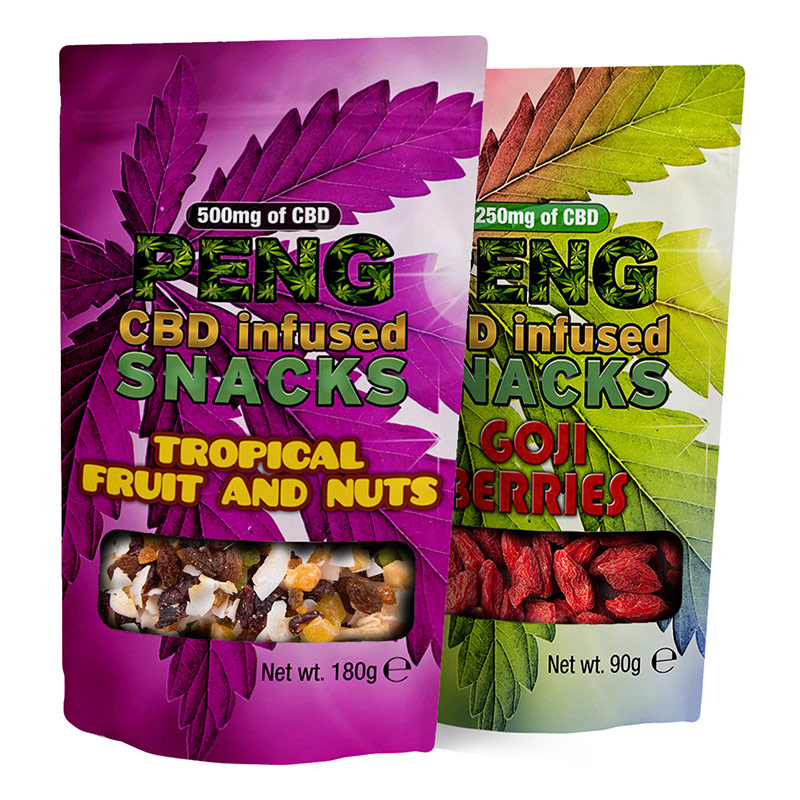 PENG CBD infused snacks and sweets
Our PENG CBD infused snacks and sweets contain Full Spectrum Cannabidiol Hemp Extract Crystals and are available in two pouch sizes.
There are 9 varieties of snacks and 6 varieties of sweets, all dusted with a specific amount of CBD crystals.
Our CBD is made by a leading EU based producer using state-of-the-art supercritical CO2 extraction processes on cold-pressed industrial hemp seed oil (cannabis sativa L.). A process that creates the purest CBD and preserves all other cannabinoids, terpenes, flavonoids, and nutrients. The hemp is cultivated without herbicides and pesticides.
Supply and delivery terms
This website is for our retail and wholesale customers only, to order in bulk contact us with your requirements and we will send you an invoice. Once we've received your payment, orders are processed and sent out the same day from one of our depots in The West Midlands.
Delivery charges
The delivery charge is £10 for small orders of up to £150, £20 for orders from £150 to £4,500, and orders over £4,500 are FREE DELIVERY. All orders must be fully inspected upon delivery and any errors reported to us within 48 hours.
PENG CBD infused snacks
Almonds
Banana chips
Cashew nuts
Goji berries
Deluxe fruit and nuts
Raisins
Tropical fruit and nuts
Walnuts
Sun dried mango
PENG CBD infused sweets
Bubblegum hemp sweets
Cola hemp cubes
Hemp fizzies
Hemp gummies
Hemp jellies
Strawberry hemp stix