PENG CBD Isolate Crystals
PENG CBD Isolate is a high-grade formula, its 99.6% pure CBD isolate crystals made from CO2 extracted hemp extract. This is the most refined hemp extract available which contains only CBD.
The CBD crystals in PENG CBD Isolate have been finely ground for ease of use. Can be recrystallised if necessary.
INGREDIENTS: CO2 extracted CBD isolate crystals from a legal EU hemp strain.
Gluten and lactose free. Vegan friendly. No additives. No parabens. Store in a cool place out of direct sunshine.
Our CBD crystals are made by a leading EU based producer using state-of-the-art supercritical CO2 extraction processes on cold-pressed industrial hemp seed oil (cannabis sativa L.). Further processing produces a phyto-organic isolate; toxic chemicals are NOT used in this final process. A process that creates 99.6% pure CBD. The hemp is cultivated without herbicides and pesticides.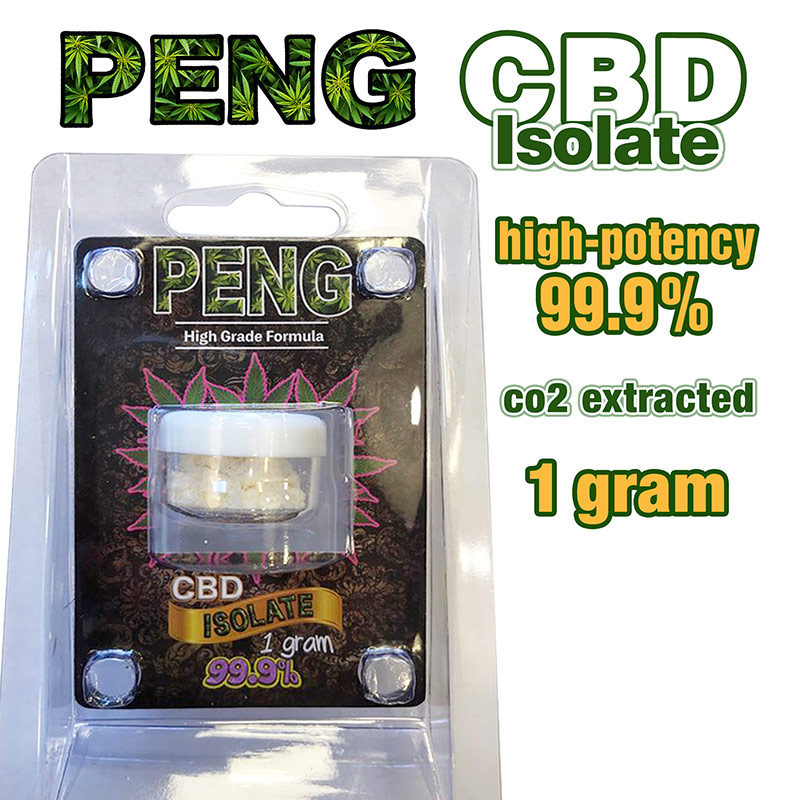 GENERAL PUBLIC: Buy Peng CBD Isolate online at Next Vapour:
WARNING: Keep out of reach from children and pets. You must be over 18 to use this product. This product is not intended to treat any medical condition. Do not use if you are pregnant or breastfeeding. CBD can cause drowsiness. Use at your own risk. Check with your GP before starting a new dietary supplement program.
WARNING: This product and statement have not been approved by the Food and Drug Administration. Do not use if you are pregnant or lactating. Always consult a doctor if you feel unwell.