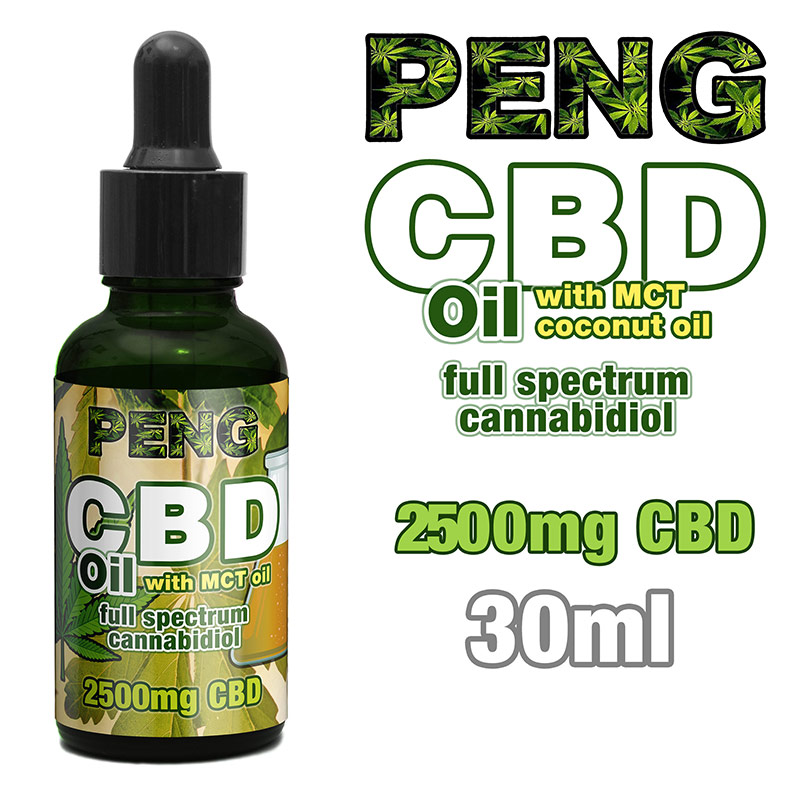 PENG CBD Oil with MCT coconut oil
INGREDIENTS: MCT Oil (from Coconut Oil), Full Spectrum Cannabidiol (CBD), <0.2% THC.
PENG CBD Oil with MCT coconut oil is a Food Supplement. GUIDANCE: Take 3 to 6 drops under tongue up to 3 times per day. Do not exceed this dosage. Can also be used topically on skin to soothe or moisturise.
There are two CBD strengths, 1000mg and 2500mg.
1000mg contains 3.33% CBD oil (33.3mg of CBD per 1ml).
2500mg contains 8.33% CBD oil (83.3mg of CBD per 1ml).
Our CBD is made by a leading EU based producer using state-of-the-art supercritical CO2 extraction processes on cold-pressed industrial hemp seed oil (cannabis sativa L.). A process that creates the purest CBD and preserves all other cannabinoids, terpenes, flavonoids, and nutrients. The hemp is cultivated without herbicides and pesticides.
Gluten and lactose free. Vegan friendly. No additives. No parabens. Store in a cool place out of direct sunshine.
WARNING: Keep out of reach from children and pets. You must be over 18 to use this product. This product is not intended to treat any medical condition. Do not use if you are pregnant or breastfeeding. CBD can cause drowsiness. Use at your own risk. Check with your GP before starting a new dietary supplement program.
GENERAL PUBLIC: You can buy PENG CBD Oil online HERE
Supply and delivery terms
This website is for our retail and wholesale customers only, to order in bulk contact us with your requirements, and we will send you an invoice. Once we've received your payment, orders are processed and sent out the same day from one of our depots in The West Midlands.
Delivery charges
The delivery charge is £10 for small orders of up to £150, £20 for orders from £150 to £4,500, and orders over £4,500 are FREE DELIVERY. All orders must be fully inspected upon delivery and any errors reported to us within 48 hours.