Peng NicSalts e-liquids
Peng NicSalts e-liquids are carefully crafted and tested in The West Midlands UK, using gourmet natural and artificial ingredients. The base is 50% Vegetable Glycerine and Propylene Glycol.
Available in 10ml bottles and various flavour ranges; Tobacco, Chilled, Sweets and Sherbet. Peng NicSalts e-liquids are available in two strengths of nicotine: 10mg and 20mg per 1ml.
Salt Nicotine when used in e-liquid delivers a smoother and faster throat hit at higher nicotine strengths than conventional nicotine in e-liquids.
At 50% VG, Peng NicSalts e-liquids are ideal for all-day vaping in a wide variety of vape devices.
Peng e-liquids are also available in a CBD range, and in a range of 50ml shortfills to which nic-shots can be added.
Flavour list
Apple and Raspberry
Blue Raspberry Laces
Fizzy Pink and Blue Bottles
Fizzy Vinto
Honey Roasted Tobacco
Lemon and Cherry Nerds
Rainbow Nerds
Red Berries Black Grape and Menthol
Vinto Menthol
Watermelon and Cherry Nerds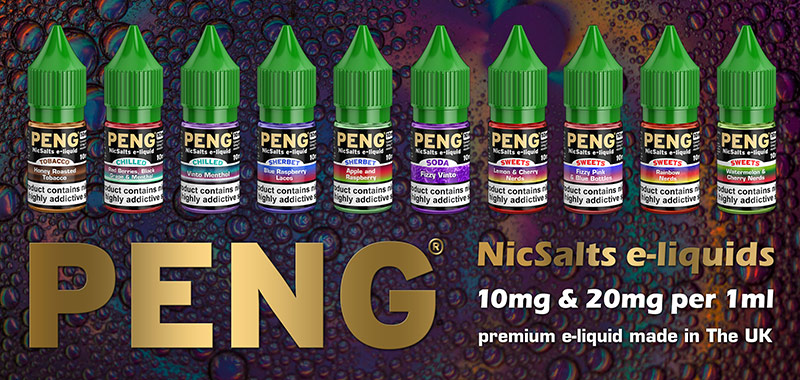 GENERAL PUBLIC: Buy Peng NicSalt e-liquids online at Express Vapour: