Vapour Freaks CBD e-liquids
Vapour Freaks e-liquids are also available in a CBD version and initially available in 8 popular flavours.
Vapour Freaks CBD e-liquids are carefully crafted in The West Midlands UK, using gourmet ingredients. The base is Vegetable Glycerine.
Vapour Freaks CBD e-liquids are available in 30ml bottles with zero nicotine.
We have two CBD strengths 500mg per 30ml bottle and 1500mg per 30ml bottle.
Our CBD is made by a leading EU based producer using state-of-the-art supercritical CO2 extraction processes on cold-pressed industrial hemp seed oil (cannabis sativa L.). A process that creates the purest CBD and preserves all other cannabinoids, terpenes, flavonoids, and nutrients. The hemp is cultivated without herbicides and pesticides.
INGREDIENTS: Full Spectrum CBD (Cannabidiol Hemp Extracts), Natural and Artificial Flavouring, Vegetable Glycerine (60%) and Propylene Glycol (40%). Zero nicotine.
Flavour list
Banshee - Summer fruits
Banshee Ice - Summer fruits menthol
Demon - Fantalicious grape on ice
Scorpus - Fruity Vinto juice
Scorpus Ice - Fruity Vinto juice menthol
Sphinx - Blueberry muffin
Thor - Red berries, black grape and menthol
VooDoo - Fruity menthol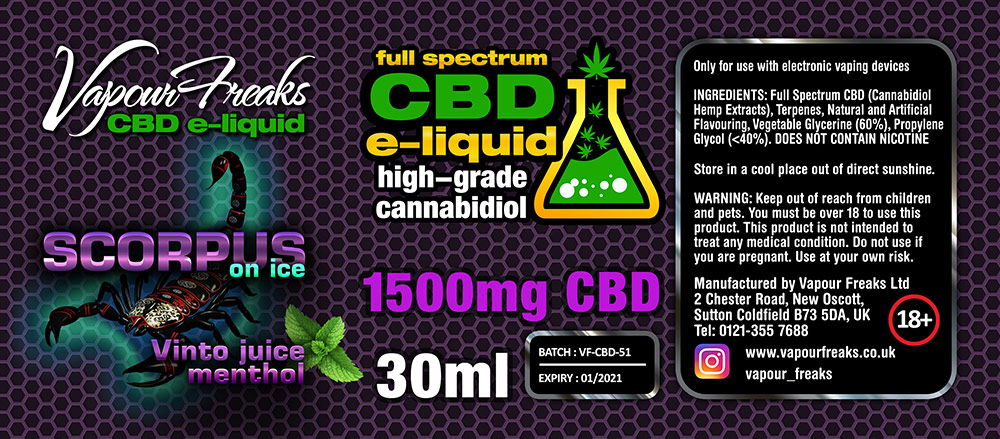 GENERAL PUBLIC: Buy Vapour Freaks CBD e-liquids online at Next Vapour: