Vapour NicSalts Freaks e-liquids
Vapour Freaks NicSalts e-liquids are carefully crafted and tested in The West Midlands UK, using gourmet natural and artificial flavourings.
Vapour Freaks NicSalts base is 50% Vegetable Glycerine and <50% Propylene Glycol.
Available in 10ml bottles, Vapour Freaks NicSalts e-liquid flavours range from a tasty honey roasted tobacco, to various fruit flavours such as grape and cherry, a bubblegum flavour and menthol.
Vapour Freaks NicSalts e-liquids are available in two strengths of nicotine 10mg and 20mg per 1ml.
At 50% VG they are ideal for all-day vaping in a wide variety of vape devices.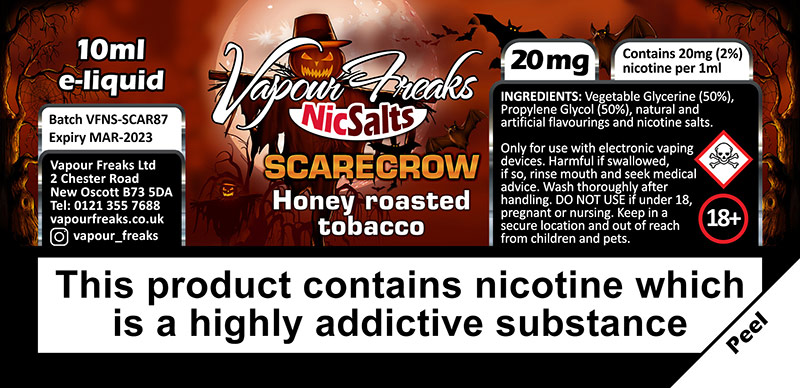 GENERAL PUBLIC: Vapour Freaks e-liquids can be purchased online HERE.
Supply and delivery terms
This website is for our retail and wholesale customers only, to order in bulk contact us with your requirements and we will send you an invoice. Once we've received your payment, orders are processed and sent out the same day from one of our depots in The West Midlands.
Delivery charges
The delivery charge is £10 for small orders of up to £150, £20 for orders from £150 to £4,500, and orders over £4,500 are FREE DELIVERY.
All orders must be fully inspected upon delivery and any errors reported to us within 48 hours.